.
1790
-
Kentucky (Virginia)
The 1790 census schedules for Kentucky no longer exist as they were burned by the British during the War of 1812.
John Bartlett
(1755* –1801
)

(Son of Nathaniel or Thomas)
(*estimate)
(census image unavailable)
.
John Bartlett is a mysterious figure, his father, even more so. John was born around the late 1750's. The exact date and place of his birth is unknown, but speculation ranges from North Carolina, Virginia or Maryland. His father's name was possibly Nathaniel who was mentioned to be of Welsh descent. Other accounts mention his name as Thomas. Because we still don't have John's complete history, I won't even speculate as to his father's origins at this time. John married a woman named Priscilla Falkner (or Faulkner) from South Carolina sometime before 1777. Their oldest children, including their son Solomon (next in our family line) are said to have been born in North Carolina. John then took his family west
around the late 1780's to early 1790's and was among many of the early pioneers from the Carolinas and elsewhere to migrate to what was then a western portion of Virginia. These lands would become the state of Kentucky in 1792. John's family finally settled in the Skaggs Station area (now Summersville) in Green County around 1792. John's youngest daughter, Lydia was born in Kentucky in 1794. John's son, Solomon married Rosannah McMurtry in Green County in 1797. Another of John's daughters, Nancy was married in Green County in 1799 to Noah Gordon and Lydia would eventually marry Joseph Beauchamp in Green County in 1814 according to county records. The children of John and Priscilla are known to be Solomon, Margaret, Catherine, Nancy and Lydia.
There is a mention of several other children, but I have yet to positively confirm their exact relation to John through other sources. If their pedigree is eventually established, John's family would then include another son, Joshua, born in 1778 in Virginia and died in Clark County, Kentucky in 1828, a daughter Sarah, born around 1790, married first to William Scott and then to William Skaggs, daughter Patsy who was married to Thomas Lee and Steven Skaggs. John died young in his mid-40's around 1801 in Green County. His widow eventually re-married in 1806 to Peter Wooley, who is sometimes referenced as Pressler Wolley. I've been unable to find any information regarding Priscilla's or Peter/Pressler's whereabouts after they married. There appears to be a will for John and an inventory of his estate in existence. I do not have these documents at this time, but I will be seeking them out, as they could give much more information as to John's life and family. His death would leave Solomon as the senior patriarch of our family line. This takes us to the turn of the century. John lived but a short time, but he was able to live before, during and after the birth of the United States and was able to provide a new start for his family in a brand new state. The Bartlett's that we can directly claim as our own would now live in the state of Kentucky for the next 60 years. The President of the United States at the time the Bartlett's established their residence in state of Kentucky was George Washington. So the progression of our known family line can be measured starting with the very birth of our country.
.
Green County, Kentucky was split over the years into separate counties. Barren and Monroe were two of those counties. Our family would reside in this same general area during their time in Kentucky.
Green County, the sixteenth in order of formation, is located in south-central Kentucky, now bordered by Adair, Hart, Larue, Metcalfe, and Taylor counties, and has an area of 289 square miles. Green County was formed from portions of Lincoln and Nelson counties on December 20, 1792, with GREENSBURG as its county seat. The county was named in honor of Gen. Nathaniel Greene, a hero of the Revolutionary War. Known as the "Quaker general," Greene was an American commander at Boston, Long Island, Trenton, Brandywine, Germantown, Monmouth, and several other engagements. In 1780 he was appointed commander of the southern theater of operations; he and his troops forced the British out of the Carolinas and toward surrender at Yorktown in 1781. The topography of Green County is hilly. Approximately 80 percent of the county is farmland, about a third of which is forested. There are numerous streams. Green River, which flows through the central portion of Green County, is the largest water source. Several important creeks also flow through the county, among them Brush, Pittman, and Russell creeks and the Little Barren River.
.
The history of the Green County area before the first pioneer settlements can be traced through the many artifacts from burial mounds and small village sites left by the Indians who lived and hunted there. The first pioneers in Green County were a group of Long Hunters who explored the region in 1770. The first permanent settlers came from Virginia, North and South Carolina, Maryland, and Pennsylvania. Some of the early settlers were veterans of the Revolutionary War who received land grants as payment for their war service to Virginia. Among the pioneer stations established were Pittman's Station, two miles from Greensburg on Pittman's Creek; Skaggs Station, at the present site of Summersville; and Glover's Station, at the present site of Greensburg. About eight miles east of Greensburg, on the Columbia road, is the site of Gray's Station, erected around 1790.
.
.
1790's
IN HISTORY
PRESIDENT:
George Washington (1789 - 1797), John Adams (1797 - 1801)
EVENTS:
First Census of the United States (1790), Wolfgang Amadeus Mozart dies (December 5th, 1791), Kentucky becomes the 15th state (June 1st, 1792 ), French Revolution (1789 - 1799).

_______________________________________
1800
- Green County, Kentucky Census
The 1800 census schedules for Kentucky no longer exist as they were burned by the British during the War of 1812.



Solomon Bartlett

(1780* – 1833) (Son of John)

(*estimate)





(census image unavailable)





1800

"Second Census" of Kentucky (from tax lists)
Green County
John Bartlett
(Son of Nathaniel or Thomas)
Solomon Bartlett
(Son of John)
William Bartlett
(Relation Unknown)
Bartlett's on the 1800 Tax List
1800

would not only start a new century, but a new era for the Bartlett's. With the death of John Bartlett in 1801, his son, Solomon becomes the patriarch of the family. He was born in North Carolina around 1780, moved with his family to Kentucky around 1792 and married Rosannah McMurtry in 1797 in Green County, Kentucky. In 1798, they had their first child, John McMurtry Bartlett and in March of 1801, they had their second, a daughter named Mary. It was at this time that Rosannah died, possibly in childbirth or shortly thereafter. Solomon re-married later that year to Isabella Marshall, a fellow Carolina native. Their first child, Hugh (the next in our family line) was born in 1802. James followed in 1804 and their first daughter Priscilla, was born in 1805. During these years, Solomon's sisters Catherine and Margaret married in 1802 and 1804. In 1806 their mother, Priscilla (John's Widow) re-married to a Peter Wooley. All of these events took place in Green County, Kentucky according to county records. With the death of Solomon's father John, his mother re-marrying and Solomon starting his own family; it was time for him to establish his own place of residence.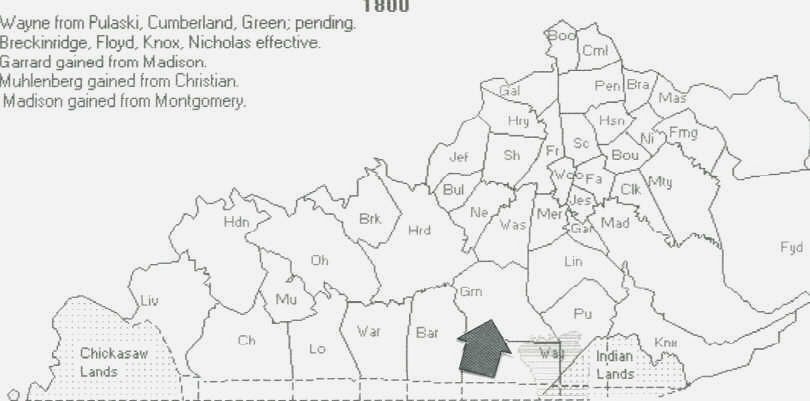 This decade would be the last that Solomon's family would reside in Green County, as Barren County, Kentucky would be their county of residence for the next decade according to census records.
.
.
1800

's
IN HISTORY
PRESIDENT:
John Adams (1797 - 1801), Thomas Jefferson (1801 - 1809)
EVENTS:
Louisiana Purchase (1803), Lewis & Clark Expedition (1804 - 1806), Beginning of the Napoleonic Wars (1803 - 1815), Francis II abdicates, thus ending the Holy Roman Empire (August 6th, 1806), Abraham Lincoln born in neighboring Hardin County, Kentucky (February 12th, 1809).

_______________________________________
1810
- Barren County, Kentucky Census
Solomon Bartlett
(Son of John)
.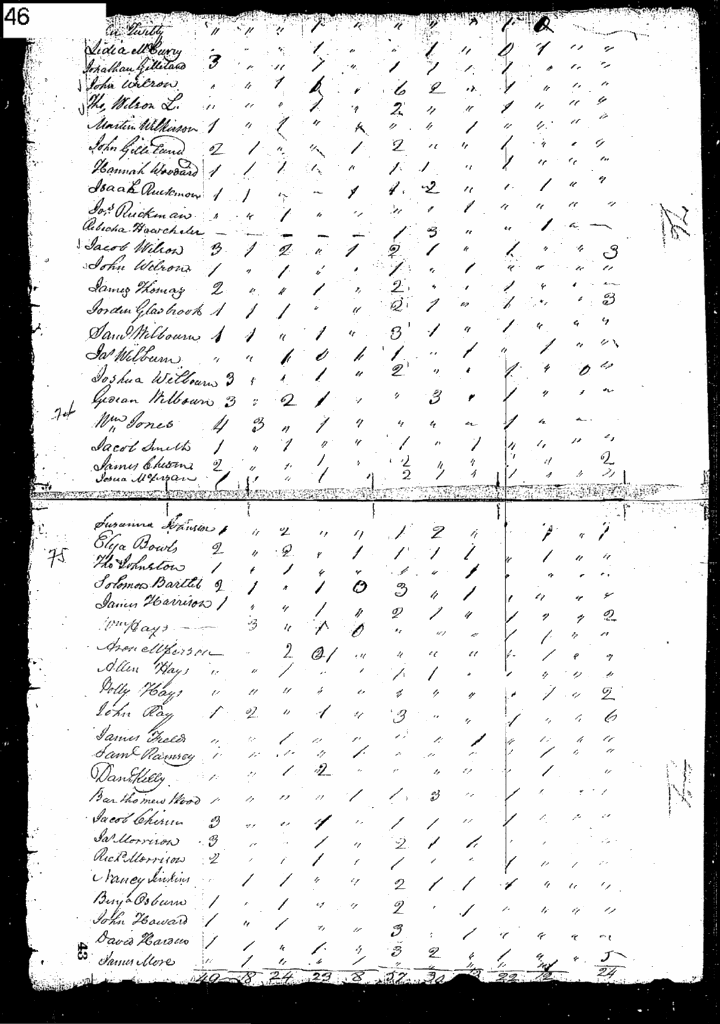 Solomon Bartlett's entry is fourth from the top of the lower section.

In

1810

, Solomon's name shows as a resident of Barren County in the census of that year. During this time, he and Isabella continue to add to their family with the additions of Thomas in 1811, Esther in late 1813 or early 1814 , Hettie in 1814 and Joshua in 1815. Solomon's sister, Lydia marries in 1814 to Joseph Beauchamp. This is the Lydia that had a mention about her father John in the factually-flawed Beauchamp biography entry I previously referenced. The major event during this decade is the War of 1812. I have found no evidence that any of our direct family members participated in this particular war. The war was largely unpopular at the time and the major events of this conflict took place outside of the state of Kentucky. Solomon may have been a member of the Kentucky state militia, as many were, but I have no information that would indicate that he was. State militias rarely (if ever) were called to fight outside of their home state during this time period.
____________________________________________
Mill Creek Baptist Church "Old Mulkey"
One interesting piece of information I did come across in my research was the place of worship of the Bartlett family, Mill Creek Baptist Church, also known as "Old Mulkey". Here is some information about its location, the preacher and how the church originated. At this time the Bartlett's were Baptists and worshipped with many who had migrated, as they did, from the Carolina's to Kentucky. Some of the members of the church included members of the Boone family. Hannah, Daniel's sister, was among them. She is buried there in the church graveyard. This church site is now a Kentucky State Historical Landmark and is located 2 miles south of Tompkinsville. Solomon's name was listed on the register of members. Also listed was the date he left the church in 1812.
Member: BARTLETT, Solomon Date left: June 1812 Reason: constitution
(Transcribed from the

minutes

of Old Mulkey)

This church proved to be controversial with several changes in doctrine taking place over the years. Solomon's reason for leaving lists "constitution". Several other members list this as a reason for leaving on the same date as well. This entry means a constitution of a new church. However, I have been unable to determine what the exact point(s) of contention were with the church, if any, to cause the departure of Solomon and several others on that same date. It may have been caused by differences from the original church split 2 ½ years earlier, or it may have been from some other issue entirely. The family did relocate within the county during this time which might account for leaving this church. I currently have no information as to what church Solomon joined after his split with "Old Mulkey". One detail taken from an article about the church was the fact that the pastor, John Mulkey would travel to preach in various locations in the area. One such location mentioned is Pittman's Creek in Green County around 1798.
.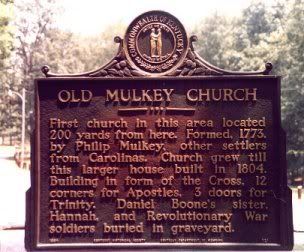 .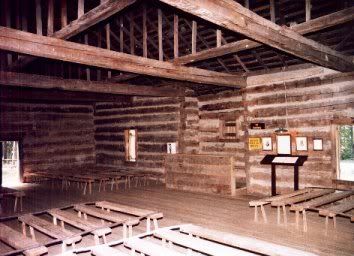 .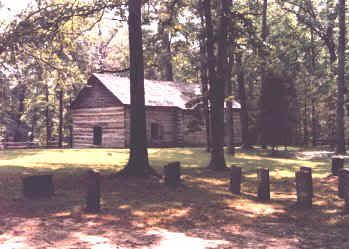 .
.
Solomon

purchased

75 acres on Peter's Creek in Barren County on January 6th, 1816. This area
of the county would be split into Monroe County in 1820. This area would be where the Bartlett's would live for the remainder of their time in the state of Kentucky.
.
Barren County, the thirty-seventh in order of formation, lies in south-central Kentucky, midway between Louisville and Nashville, and covers an area of 482 square miles. It is bounded by Hart, Edmonton, Warren, Allen, Monroe, and Metcalfe counties. The Kentucky General Assembly created it on December 20, 1798, from parts of Warren and Green counties. Barren County then totaled some 1,500 square miles, but parts of it have gone into the creation of surrounding counties. Originally it extended from the Green River on the north to the Tennessee line on the south. Although the county now is only about a third of its original size, only ten counties today are larger.
The county was named for the barrens, the meadowlands that cover the northern third.
Many of the early settlers were Revolutionary War veterans who received grants of land south of the Green River reserved for that purpose by Virginia. Seventy percent of the original settlers came from Virginia; more than 80 percent of the early settlers were English, Scottish, Welsh, or Irish in background. The county seat was named GLASGOW to honor the large number of Scottish settlers. Other principal towns in the county include Cave City, Park City (formerly Three Forks), and Hiseville (formerly Goose Horn); many of the hamlets of the early days have disappeared.
Perhaps the first explorers to spend time in what is now Barren County were Long Hunters led by Henry Skaggs, who camped on Beaver Creek in 1769. Many pioneers traveled the Cumberland Trace, which passed through the northern part of the county, connected with Daniel Boone's Wilderness Road at Hazel Patch, and went on to Lexington and Limestone (now Maysville). Stage lines later linked the area to Nashville, Louisville, and Lexington. A well-known stage line of the last half of the nineteenth century ran from Park City through Glasgow to Burkesville.
Mammoth Cave lies outside Barren County, but visitors to the cave in the 1800s reached it by way of Park City or Cave City; a railroad to the cave ran from Park City (then Glasgow Junction). The spur railroad from Park City to Glasgow that opened in 1870 and connected with the Louisville & Nashville (now CSX Transportation) was a boon to economic development of the county.
During the early decades, most of the county residents were small farmers. Tobacco has been the main cash crop since early days. Livestock and dairying have replaced row crops to a great extent. Hay is another major farm product. A new industrial growth has recently taken place in the county, especially in Glasgow.
Two governors of Kentucky, Preston H. Leslie (1871-75) and Louie B. Nunn (1967-71), have come from Barren County. During the bicentennial celebration in 1976, three of the county's modern greats were recognized: Gen. Russell E. Dougherty, then the commanding general of the Strategic Air Command: Billy Vaughn, band leader and musician; and Julian Goodman, who was then chairman of the board of the National Broadcasting Company: Arthur Knock, a writer for the New York Times, was a native of Glasgow.
.
.
1810's
IN HISTORY
PRESIDENT:
James Madison (1809-1817), James Monroe (1817-1825)


EVENTS: The War of 1812 (1812 - 1814), Washington D.C. burned by the British (August, 1814), Napoleon defeated at Waterloo (June 18th, 1815), First steamship crosses the Atlantic Ocean and arrives in Liverpool , England (June 20th, 1819).
________________________________________
1820
- Monroe County, Kentucky Census
Third and fourth columns, Surname, first name
Male data 0-9 , 10-15 , 16-17 , 18-25 , 26-44 , 45 and up
Female data 0-9 , 10-15 , 16-17 , 18-25 , 26-44 , 45 and up 195 31
.
Bartlett, Solomon
211110 41001 (Son of John)
.
Actual 1820 Monroe County,
Kentucky Census Image -
(Solomon - line 31)
.
The

1820

's began with Solomon and Isabella adding even more children to their family. Abba (son) born in 1821, daughter Elizabeth born in 1822, and a son Solomon, born in 1824. In 1825, Hugh (our next family link) married Leah Welborn. Hugh was Solomon's eldest son with Isabella. His two previous children before Hugh were son John McMurtry Bartlett and daughter Mary, who he had with first wife Rosannah before she passed away. There would soon be three Solomon's in the family, with Solomon Sr., Solomon Jr. and then Solomon's grandson, Solomon (Son of Hugh). Now, does everyone have that straight? I found that this seemed to cause some confusion to some of our previous family genealogists evidenced by some incorrect family group records on the LDS website. I will sort it out for you as the story continues. As I mentioned, Hugh married Leah Welborn (or Wilbourn) and started their family with their daughter Rachel, born in 1826 and then the aforementioned son Solomon in 1828. This Solomon (son of Hugh) will eventually be the next in our family line. The family now resided in Monroe County, Kentucky with the formation of that county from a portion of Barren County in 1820. With the census of 1820 came the beginning of additional census information beyond just surname and given name. We now have record of the number of males and females residing in each household. The expansion of information will eventually list the names of spouses and all family members starting with the 1850 census. This will help immensely when following the family progression, especially when the younger Solomon's begin to establish their households.
________________________________________
.

Monroe County, the sixty-fifth county in order of formation, is located in south-central Kentucky along the Tennessee state line. It is bordered by Allen, Barren, Metcalfe and Cumberland counties and has an area of 331 square miles. In was formed on January 19, 1820, from portions of Barren and Cumberland counties, and named in honor of James Monroe of Virginia, who was then president of the United States. The county seat of Monroe County is TOMPKINSVILLE, named in honor of James Monroe's vice-president, Daniel Tompkins of New York.


.


The topography of Monroe County is varied. Level and extremely fertile lands near the Cumberland River extend to undulating and then to very hilly lands in the central portion of the county. The fertile river bottomlands produce an abundance of grain crops. The more rolling lands are devoted to pasture and woods. Approximately half of the county is forested by a variety of second-and third-growth timber consisting of oak, yellow poplar, black walnut, ash, hickory, beech, cedar, and some pine. The major water source is the Cumberland River, which makes a large loop in the southeastern section of the county. The Big Barren River also courses through the county.


.


Before the first pioneers entered the area, prehistoric peoples hunted and lived near the streams and in the caves throughout the region. Numerous Native American artifacts document these camp and village sites. By the time of European settlement, however, the inhabitants had left the region.
.

Within the present borders of Monroe County, the first European settlers migrated in the late 1780s and early 1790s mainly from Virginia and North Carolina, with some from Pennsylvania and Maryland. These families settled along the banks of the Cumberland River and had spread throughout the area by the end of the eighteenth century. Among the earliest settlements in Monroe County were Watson's Store and Jim-Town (later Fountain Run). Watson's Store, located on the bluffs of Mill Creek, became Tompkinsville in 1819 and the county seat of Monroe County in 1820. Another prominent community is the town of Gamaliel, established about 1840.
The county was vulnerable to invasion from both Union and Confederate armies, and the war was devastating to its growth and development. The area had few Southern sympathizers in 1861, and fewer than 5 percent of the population owned slaves. Monroe County was strongly pro-Union. Shortly after the outbreak of hostilities, John M. Fraim established a Union recruiting station on his farm. The 9th Kentucky Infantry was recruited at Camp Anderson and was mustered into service at Columbia, Kentucky. In October 1861, Camp Anderson was seized and destroyed by Confederate forces under the command of Col. S.S. Stanton. By the end of the war in 1865, 801 Monroe Countians had joined the Union army; about thirty men had officially joined the Confederacy.
.

Monroe County was invaded on several occasions by both sides. The Confederate Army, under Gen. Braxton Bragg,invaded Kentucky through Monroe County in 1862. Gen. John Hunt Morgan passed through the county on raids into the state. The most intense clash between Union and Confederate forces in Monroe County occurred on July 9, 1862, when a Confederate force, under the command of Maj. R.M. Gano, attacked the 9th Pennsylvania Cavalry, commanded by Maj. Thomas J. Jordan. In the ensuing battle, the Union force was turned back, but soon retook the area. On April 22, 1863, a Confederate force under the command of Col. Ollie Hamilton captured Tompkinsville and burned a portion of the town, including the courthouse. In the process, the early court records of Monroe County were destroyed.


.


During the Civil War, the county lost a great deal of its livestock. Crop production was severely limited, markets disrupted, and the county was subjected to a virtual reign of terror by bands of toughs who had been soldiers. Monroe County was so devastated by the Civil War that full economic recovery did not occur until the twentieth century.
After the Civil War, Monroe County became a bastion of the Republican Party. From 1868 until the 1980s, very few Democrats won county-wide office. Before the Civil War, Monroe County shunned the Republican party. For example, the county gave Republican candidate Abraham Lincoln only three votes out of 963 votes cast in the 1860 election and less than 25 percent of its vote in the 1864 election. Many Monroe Countians blamed the Democratic party for the destruction caused by the Civil War.


.


During the first decade of the twentieth century, a relatively obscure Monroe County family laid the foundations for one of the most successful political dynasties in Kentucky history. The Carter family of Tompkinsville virtually controlled Monroe County politics for the next seventy years. Members of the family served in nearly every elective and appointive office in the county. Tim Lee CARTER, a Tompkinsville physician, was elected to the U.S. House of Representatives in the 1960s, but in the early 1980s the virtual monopoly of the Carter family in Monroe County politics came to an end with his death.


.


Throughout the county's history, tobacco has been the staple crop. During the nineteenth century, however, Monroe County experimented with such crops as cotton and rice. Industrial growth has been steady since the 1950s. There is no heavy industry in the county; several small to moderate-sized factories employ several hundred people.
The Baptist, Church of Christ, and Methodist denominations are the dominant faiths, but there are numerous other Protestant denominations and one Roman Catholic congregation in Monroe County. One of the oldest church buildings in Kentucky is the Old Mulkey Meeting House, built in the late eighteenth century by Baptists.
.

Several newspapers have served Monroe County. The county's first newspaper was established in Tompkinsville in 1885 by Bert Rogers. The Enterprise was published in the late 1880s, followed by the Monroe County News (later called the Southern Recorder). In 1903, John E. Leslie established the Tompkinsville News, which is still in operation.
.
.
.
1820's
IN HISTORY
PRESIDENT: James Monroe (1817 - 1825), John Quincy Adams (1825 - 1829)



.

EVENTS: Missouri becomes the 24th state (August 10th, 1821), Clement Clark Moore's poem, A Visit From St. Nicholas introduces the character named "Santa Claus" (1823), Erie Canal opens (1825), Geronimo born (June 16th, 1829)
________________________________________


.




1830

-

Monroe County, Kentucky Census



Third and fourth columns Surname, first name
Male data 0-4, 5-9, 10-14, 15-19, 20-29, 30-39, 40-49, etc.
Female data 0-4, 5-9, 10-14, 15-19, 20-29, 30-39, 40-49, etc.
Bartlett Solomon
0120-00001 0212-001 (Son of John)
Bartlett Hugh
1000-1 1000-1 (Son of Solomon)
.
(census image unavailable)
1830

Monroe County, Kentucky Tax List
Solomon Bartlett
(Son of John)
Hugh Bartlett
(Son of Solomon)
William Bartlett
(Relation Unknown)
Bartlett's on the 1830 Tax List
Hugh Bartlett
(1802 - 1848) (Son of Solomon)
..
The

1830

's saw a change in our family patriarch yet again. Solomon (Son of John) passed away in 1833 around the age of 53. I was unable to find his cause of death. Over his lifetime, he had two wives that bore him six sons and five daughters. Solomon had successfully taken over from his father John and established our family in the state of Kentucky. Where there was once, only one known paternal line from John to Solomon, there is now six from Solomon. The next in our particular family line would now be Hugh (Solomon's second son and first with second wife Isabella Marshall). Hugh was born in 1802, married Leah Welborn in 1825 and began his family in 1826 with the birth of their daughter Rachel and ensured the continuation of his line (and ours) with the birth of his son Solomon in 1828. Following Solomon would be a son, Joshua in 1830, and daughters Isabella and Sarah in 1833 and 1838.
.
.
1830's
IN HISTORY
PRESIDENT: Andrew Jackson (1829 - 1837), Martin Van Buren (1837 - 1841)

EVENTS: The British Parliament passes the Slavery Abolition Act giving all slaves in the British Empire their freedom (1833, enacted 1834). Mark Twain is born (November 30th, 1835), Battle of the Alamo (1836), Queen Victoria takes the throne of the United Kingdom (June 20th, 1837).
________________________________________
1840
- Monroe County, Kentucky Census
Third and fourth columns, Surname, first name
Male data 0-4, 5-9, 10-14, 15-19, 20-29, 30-39, 40-49, etc.
Female data 0-4, 5-9, 10-14, 15-19, 20-29, 30-39, 40-49, etc.

Bartlett Hugh 01101 221001

(Son of Solomon)


Bartlett Isabella 0001 000030001

(Widow of Solomon)


Bartlett Joshua 00001 0

(Son of Solomon, brother of Hugh)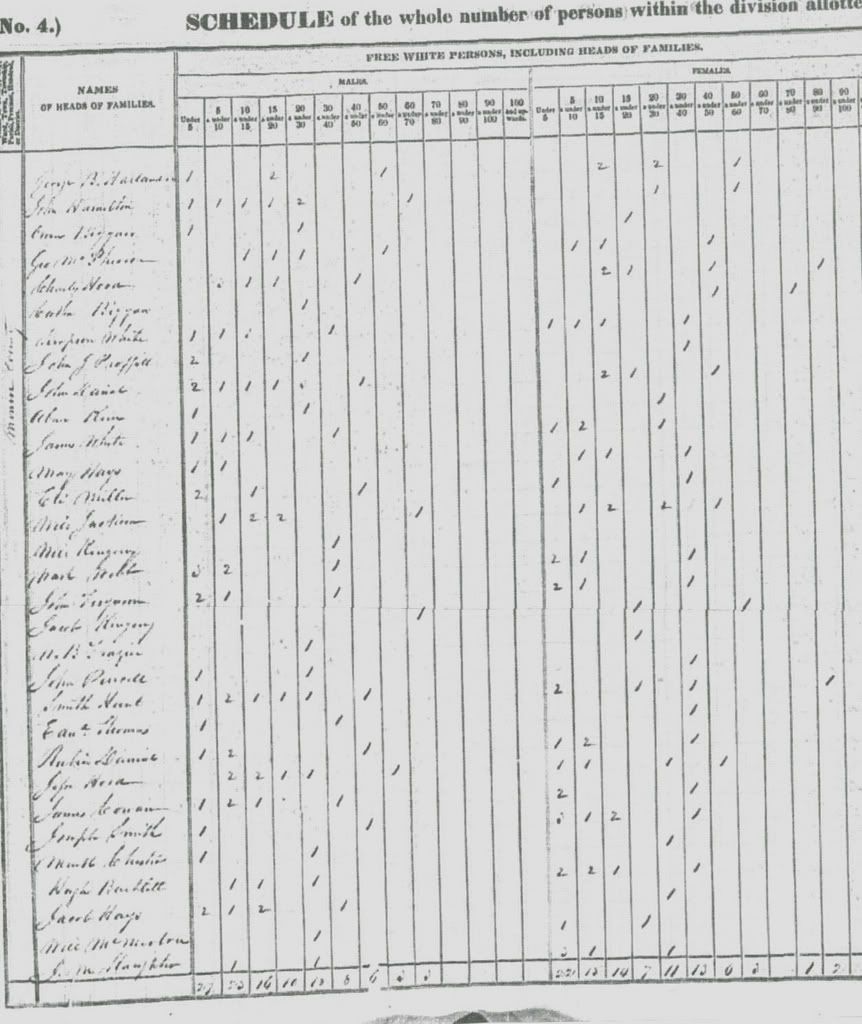 Actual 1840 Monroe County, Kentucky Census Image - (Hugh - line 28)
Solomon Bartlett
(1828 - 1865) (Son of Hugh)
.
.

The

1840

's saw another Bartlett patriarch pass away. Hugh died on September, 12th, 1848. I was unable to discover the cause. Hugh was only 46, about the same age as his grandfather, John when he died. During his 15 years as head of our Bartlett line, he and his wife Leah had six children, consisting of a family of three boys and three girls. There were no significant family events that I could uncover during this period of time. In fact, I hardly found any information at all regarding Hugh and like his grandfather John before him, Hugh maintains some mystery regarding the details of his life as a result. Hugh's son Solomon named after Hugh's father would now take over as head of our family line. He would preside over some of the most significant changes and events our family would experience during his stint as head of the family. He was born in 1828 to Hugh & Leah. He married Elizabeth Braden around 1848 and had his first son, Harmon Joshua Bartlett soon after. There is much more we will learn about Solomon and his family as we continue.
.
.
.
1840

's
IN HISTORY
.
PRESIDENTS: Martin Van Buren (1837 - 1841), William Henry Harrison (March 4th, 1841 - April 4th, 1841), John Tyler (1841 - 1845), James Knox Polk (1845 - 1849), Zachary Taylor (March 4th, 1849 - July 9th, 1850)



.

EVENTS: First Telegraph sent by Samuel Morse (May 24th, 1844), U.S. Naval Academy established (1845), Mexican-American War (1846 - 1848), Edgar Allan Poe dies (October 7th, 1849).
___________________________________
1850
- Monroe County, Kentucky Census
.
.
The year

1850

began the last decade that our family line would reside in Kentucky. Census records indicate that our Solomon & Elizabeth would leave the state and move to Missouri before 1855. Solomon's second son, Hugh Marshall Bartlett was born in 1851, his third son, John Bartlett, was born in 1853. John appears to be the last of our Bartlett's born in Kentucky. The 1860 census shows that Solomon and Elizabeth's daughter Nancy Isabella Bartlett was the first of our Bartlett's born in Missouri in 1855. Leah follows in 1858. Our Solomon's two younger brothers also start their own families. Joshua married Julian McGuire in 1856 and Jacob T. marries Elizabeth Sabins in 1859. Solomon's uncle Joshua, his wife Elizabeth, his sister Esther and Isabella (Widow of Solomon Sr.) will now be the only Bartlett's left residing in Monroe County, Kentucky after our Solomon's family leaves for Missouri.

That is, they will be the only Bartlett's left in Monroe County with the same spelling of their last name. It seems that census records were full of misspellings and many of our Bartlett's were subject to this on census records. A common variation due to this over the years would include "Bartley", among others. It appears that some of these lost Bartlett's had actually adopted the alternate spellings of our last name at some point. Since the direct family line I am tracing does not include any such misspellings, I won't even bother to trace the aunts, uncles and cousins who have been lost due to this. Other Bartlett's reside in other counties in Kentucky as well during this time, but since they are not significant in the ongoing history I'm presenting, they will remain unidentified by me. Suffice to say that we more than likely have many distant relatives still residing in the state of Kentucky to this day. Just who they might be would be for somebody else to figure out. I've been unable to determine what exactly caused Solomon to wake up one morning and decide to move to Missouri. For whatever reason, Solomon packed up the family wagon and set off to start a new chapter along with several other families from Monroe County, Kentucky.

As I mentioned earlier, with the census of 1850 comes more information than ever before about our families. Along with the listing of each family member comes their ages, sex, occupations, value of their real estate, place of birth, date of marriage, whether or not they were in school the past year and also whether or not they were illiterate. From this information, we find that our Solomon is unable to read or write. We also find that Solomon's mother Leah and his grandmother, Isabella also claim to be illiterate. We can only speculate as to whether this extended to Solomon's father Hugh or his father Solomon. All were farmers and this could have kept their schooling to a minimum depending upon the health of the family and other circumstances. Farming was the family business, and back then, that would have taken priority over schooling. It is not known if Solomon's father, Hugh or his grandfather Solomon had ever attended school. We do learn from this census however, that Solomon had attended school sometime within the last year at around the age of 21.

We also learn about the family groupings and just who is residing with whom. The other Solomon (Jr.) (son of the original Solomon, Sr. and our Solomon's uncle) lists his wife, Lucinda and his mother Isabella (Widow of Solomon Sr.) in his household. We learn that Joshua (another uncle) lists his wife Elizabeth and also his sister, Esther in his household. Our Solomon's mother, Leah (Widow of Hugh) is now head of her household, with Solomon's younger brother Joshua (age 19) taking care of the family farm. Another confusing part of this census is that since there are two Solomon's so close in age, our Solomon is listed as (Jr.) in error. Solomon's uncle, only around five years older in age is actually the junior. The same thing happens with Solomon's brother, Joshua who is labeled (Jr.), when actually he is not at all. His uncle Joshua is being confused as his father. This is another example why even on the U.S. Census, second and third sources of information should be checked to confirm accuracy of some family information. I know this is still confusing, so I will include a family tree chart at the end of this section to view for clarity. We also learn that during this time, our Solomon's wife, Elizabeth has her two younger sisters, Mary and Amanda Braden living with them.
.
.
.
1850's
IN HISTORY
.
PRESIDENTS: Zachary Taylor (March 4th, 1849 - July 9th, 1850), Millard Fillmore (July 9th, 1850 - March 4th, 1853), Franklin Pierce (1853 - 1857), James Buchanan (1857 - 1861).
.
EVENTS: Bleeding Kansas (1854 - 1859): battles erupt in Kansas Territory between pro-slavery and "Free-State" settlers, directly presaging the American Civil War, Lincoln-Douglas Debates (1858), John Brown raids Harper's Ferry in Virginia, hoping to spark a slave rebellion (October 16th, 1859).
_______________________________________


And with this, we close the book on the Bartlett's in Kentucky. A new era has now begun in the state of Missouri for Solomon and Elizabeth's family. We will now begin their story.
The Bartlett's of Kentucky
_____________

John Bartlett
Priscilla Falkner (2nd wife ?)
Solomon
..
Margaret
..
Catherine
..
Nancy
..
Lydia

_____________________________________
Rosannah McMurtry (1)
John
..
Mary
__________
.
Solomon Bartlett
Isabella Marshall
(2)
Hugh
..
Priscilla
..
Thomas
..
Esther
..
Hettie
Joshua
..
Abba
..
Elizabeth
..
Solomon
______________________________________

Hugh Bartlett
Leah Welborn
Rachel

..

Solomon

..

Joshua

..

Isabella

..

Sarah

..

Jacob




.

___________________

_

__________________


.
Solomon Bartlett
Elizabeth Braden
Harmon

..

Hugh

..

John *
* Solomon and Elizabeth's family at the time they left Kentucky.
Their family expands in Missouri. (next section)
Old Kentucky Maps
.
.
.
.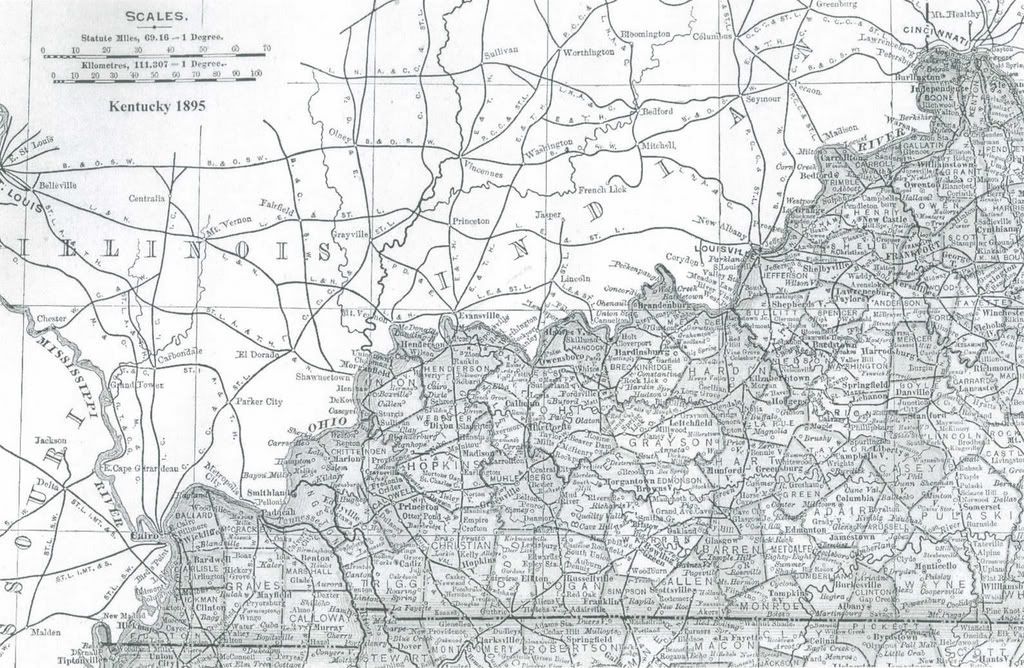 .