.
1860
- Sullivan County, Missouri Census
4,5 Surname, First Name
6,7,8 Age, Sex, Occupation
9,10 Value of Real Estate, Value of Personal Estate
11 State, Territory or Country of Birth
12,13,14 Married in Year, School in Year, Illiterate
Bartlett, Solomon 34 M Farmer 3880 1052 KY 001
(Son of Hugh )
Bartlett, Elizabeth 29 F

KY 001

(Wife of Solomon)
Bartlett, Harmon

11 M

KY 010

(Son of Solomon)
Bartlett, Hugh 9 M KY 010

(Son of Solomon)
Bartlett, John 7 M KY 010

(Son of Solomon)
Bartlett, Nancy 5 F MO 010

(Dtr of Solomon)
Bartlett, Leah 2 F MO 000

(Dtr of Solomon)
Payne, Jordan 26 M

Farmhand 350 KY 010

(
Cousin of Elizabeth)
Pg. 1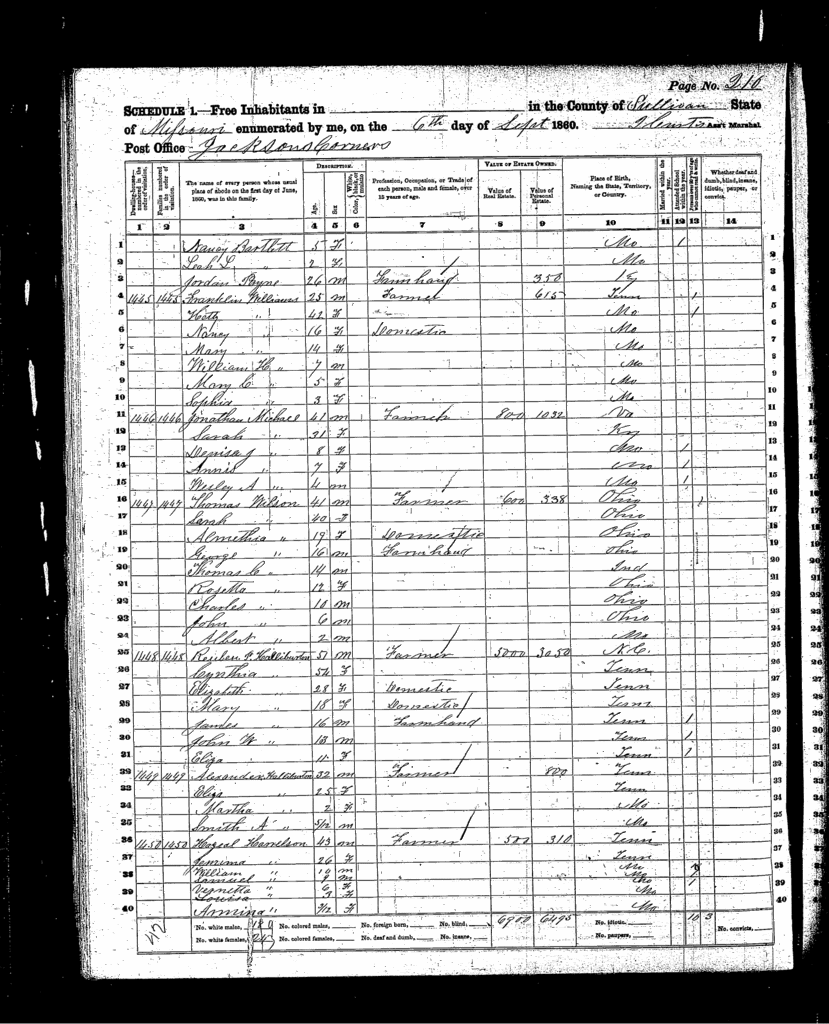 Pg. 2.
Actual 1860 Sullivan County, Missouri Census Image
Solomon's Family is last entry on pg. 1 and continues on pg. 2
Solomon Bartlett (1828 – 1865)

(Son of Hugh)
Solomon and family traveled nearly 600 miles from Monroe County, Kentucky to Sullivan County, Missouri along with several other families from Kentucky around 1855. A distance that would take us about 10 hours by car in air conditioned comfort would've taken months for these pioneers depending upon the weather and many other factors. They would have traveled only about 10 miles on a good day and only 1-2 miles on a bad one. The Bartlett family's wagon was pulled by 6 oxen, 2 oxen were led and they also drove loose cattle along the way. The wagon held all of their belongings so the family would have walked alongside the wagon during most of the trip. Elizabeth carried all the family's money sewn into her skirt. According to Ralph (Solomon's grandson) Solomon purchased 540 acres at $1.25 an acre. Once they arrived their work was far from done. They built a log home, livestock stable, dug a well, a cellar and put up a split-rail fence. The land was cleared and crops were planted. By

1860

just ten years since the last census and five years since they arrived in Missouri, Solomon had increased the value of his landholdings from a total $400 in 1850 while in Kentucky, to a total of $3880 in 1860 with his new homestead in Missouri. He also was able to hire Jordan Payne (cousin of wife Elizabeth) as a farmhand who also lived with the family. Solomon's sons Harmon, Hugh, John and daughter Nancy had started school and I'm sure their new surroundings were finally starting to feel like home.
Unfortunately, at this time in history, tensions were mounting between the Northern and Southern states. This would soon boil over and lead to events that would forever change Solomon's family. Solomon was raised in a county in Kentucky that would prove to be strongly sympathetic towards the North in the coming conflict. In the history I've researched so far, no Bartlett in our family line had ever owned slaves. In fact, in Monroe County, Kentucky, only 5% of residents owned slaves at all. When the war broke out, 801 men in Monroe County had joined the Union, while only 30 had joined the Confederacy. I mention this to illustrate that even if Solomon had never moved to Missouri, he would still have claimed allegiance to the North. This conflict was about much more than slavery, however. It was also about bringing the nation back to some semblance of order. Missouri especially had become an increasingly lawless area and protecting ones family and the quality of life that they had worked so hard to obtain had became more and more of a priority. Action had to be taken to ensure that things would not devolve even further and this would soon involve the direct participation of the everyday citizens of the state of Missouri including Solomon.
Guerilla warfare erupted on an unprecedented scale in 1862. Though nominally Union-held, much of Missouri remained a vast no-man's land. It was tenuously controlled by small military outposts. The very conditions that created the need for more troops left many able-bodied potential fighting men unwilling to leave their homes and families for volunteer service elsewhere. The provisional state government won authorization that spring for the Missouri State Militia--Federally-funded units to fight only within the state. While the MSM contributed actively to the course of the war its members nevertheless found themselves fighting far from their homes and the guerilla problem persisted. In July, the state government determined to enroll all residents fit for military service into a new Enrolled Missouri Militia. The EMM organized under General Order No. 19.
The state would fund the EMM, which would be subject to the call of the governor. However, it would take its orders from the regular Federal military. Members would continue to pursue their civilian lives, contributing such service as would be needed, sometimes for months at a time. There were a total of eighty-nine such regiments.
_________________________________
GENERAL ORDER NO. 19
HDQRS. MISSOURI STATE MILITIA,
Saint Louis, Mo., July 22, 1862.
An immediate organization of all the militia of Missouri is hereby ordered, for the purpose of exterminating the guerrillas that infest our State.
Every able-bodied man capable of bearing arms and subject to military duty is hereby ordered to repair without delay to the nearest military post and report for duty to the commanding officer. Every man will bring with him whatever arms he may have or can procure and a good horse if he has one.
All arms and ammunition of whatever kind and wherever found, not in the hands of the loyal militia, will be taken possession of by the latter and used for the public defense. Those who have no arms and cannot procure them in the above manner will be supplied as quickly as possible by the ordinance department.



.

The militia-men who shall assemble at any post will be immediately enrolled and organized into companies, elect their officers, and be sworn into service, in accordance with the militia laws of the State, under the immediate superintendence of the commanding officer of the post. The militia thus organized will be governed by the Articles of War and Army Regulations, and will be subject to do duty under the orders of the commanding officers of the post where they are enrolled, or such other officers of the United States troops or Missouri Militia, regularly mustered into service, as may be assigned to their command.
Commanding officers will report from day to day, by telegraph, when practicable, the progress of enrollment at their posts and the number of arms required.
Six days after the date of this order are allowed for every man fit for military duty to report to the commanding officer of the nearest military post and be enrolled. All persons so enrolled will be regarded as belonging to the active militia of the State until further orders.
The commanding officer of a post, or any higher commander, is authorized to give furloughs to, such men of this militia force as cannot be absent from their ordinary business without serious detriment or such as are not needed for present service. Such leaves of absence will in no case be for a longer period than ten days, and may be revoked at any time or renewed at their expiration, at the discretion of the officer granting them.
The same strict discipline and obedience to orders will be enforced among the militia in service under this order as among other troops, and commanding officers will be held strictly responsible for all unauthorized acts of the men.
.
The enrollment and organization of the militia of Saint Louis will be under the general direction of Col. Lewis Merrill, commanding Saint Louis Division, who will establish rendezvous, appoint enrolling officers, and make such regulations as he shall deem necessary.
By order of Brigadier-General Schofield:
C. W. MARSH,
Assistant Adjutant-General.
________________________________
66th EMM (Enrolled Missouri Militia) Headquartered at Hannibal, active around Milan; service in northern Missouri Solomon reported for enrollment as required, to serve in the Enrolled Missouri Militia. Several extensions were given as the deadline to enlist. Solomon eventually enrolled in Milan, Missouri on September 9th, 1862.
_________________________________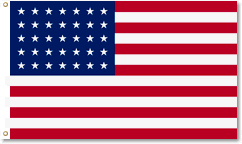 __
T

.

H

.

E
__
C

.

I

.

V

.

I

.

L
__
W

.

A

.

R
__
THE YEARS
1864 - 1865
. . . .
TENNESSEE and ALABAMA
.
44th REGIMENT MISSOURI VOLUNTEER INFANTRY
Company E


.

On August 1st, 1864, Solomon along with many others, enlisted in the 44th Missouri Volunteer Infantry. This would begin Solomon's regular war service that would take him outside the state of Missouri to fight for the Union against the Confederate regulars. Addison and Jordan Payne (friends of Solomon and cousins of his wife, Elizabeth) list the same August 1st date in 1864. Solomon also had actively served in the 66th Enrolled Missouri Militia at the same time as Addison and Jordan during parts of 1862 and 1864. They mustered out for active duty on the same day of September 8th, 1864 from Saint Joseph, Missouri. They also served together in the same Company (E).
.
.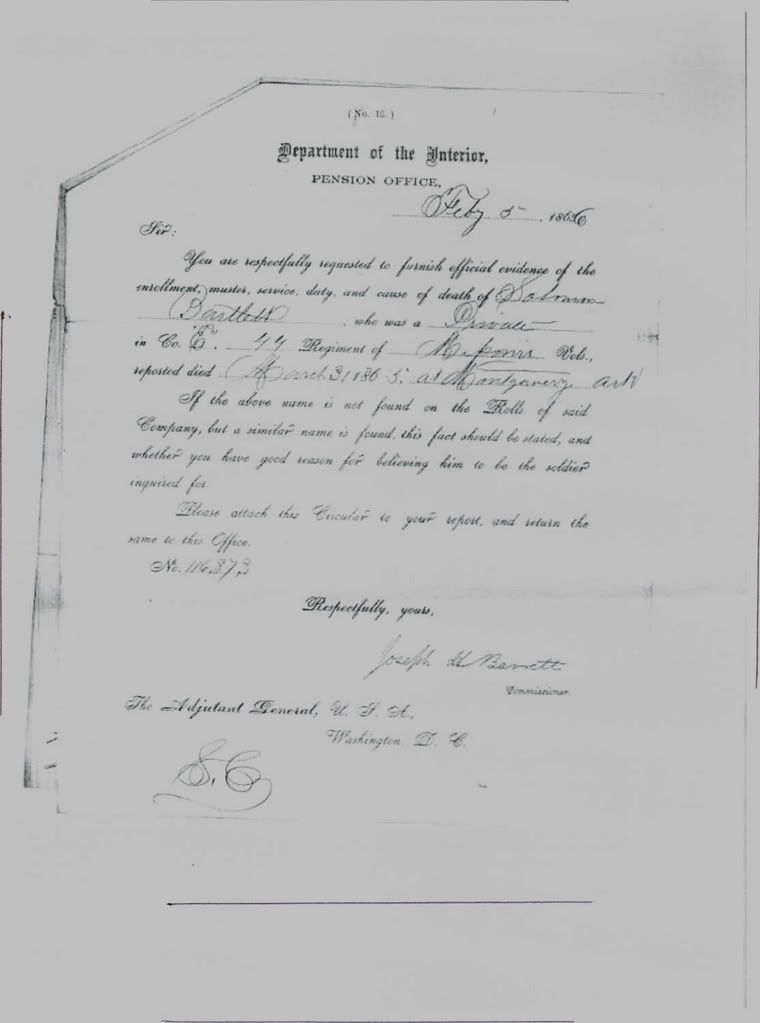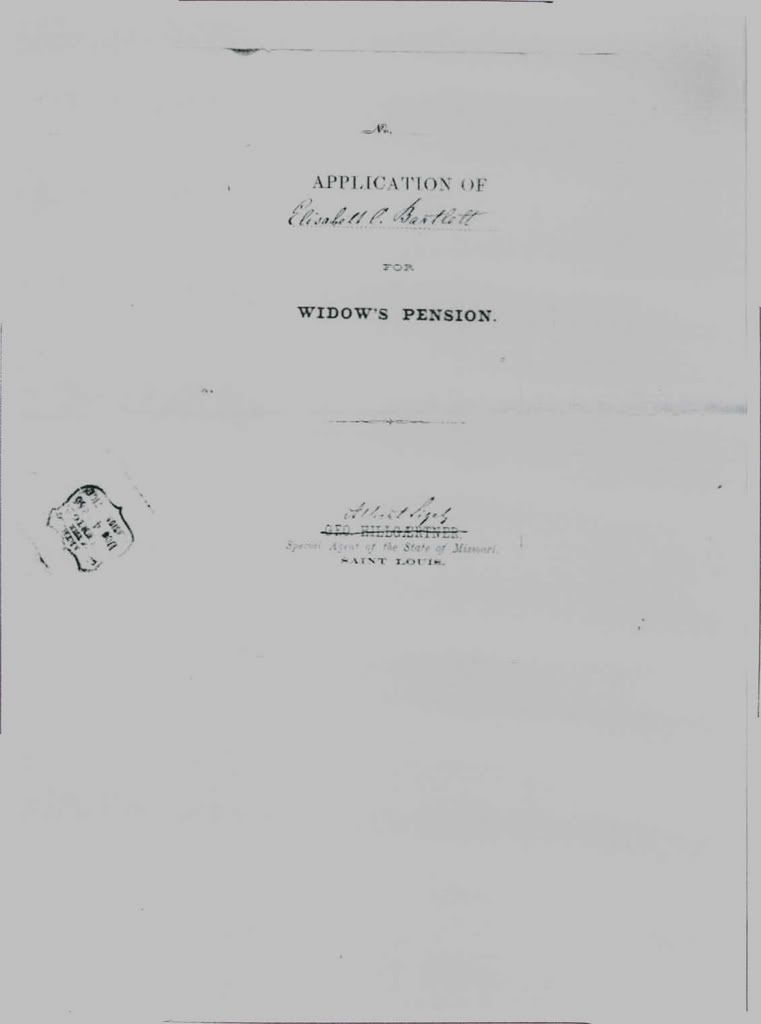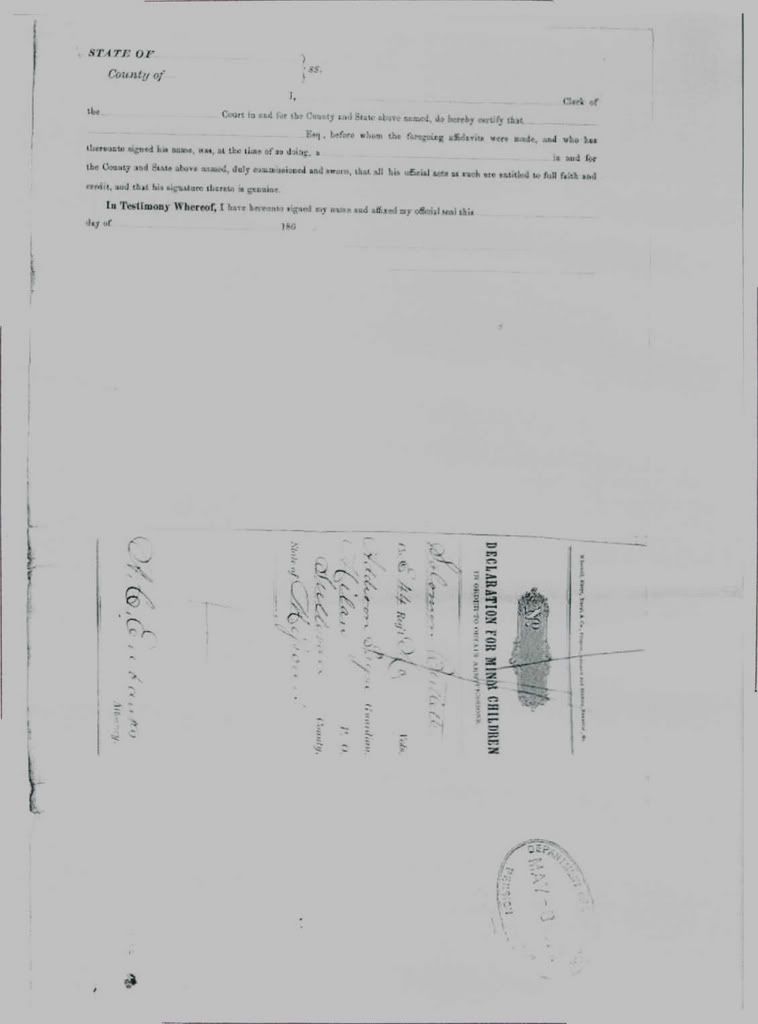 Oscar P. Smith M W 5 MO
(Son of Liberty and Elizabeth)