.
In 1900 we see that Elizabeth Smith, widow of Solomon Bartlett and Liberty Smith, is now living in Stafford, Kansas along with her son's John, James and their families. The rest of the Bartlett's remain in Sullivan County, Missouri, including Addison and his family. Ralph (12), Orpha (10), Earl (9) and James (7) are all in school and Isabel (5) is at home. Another daughter, Clio would be born around 1904. This census also shows the first of several of Addison's and later on, Ralph's children who would not survive childhood. In my research, I came across actual death certificates on a Missouri government archive site. I've chosen not to include those actual documents here, but I will mention those children who were named. Regardless of how long they were with us, they were known and loved by their parents and siblings. These types of discoveries are very sad for me, especially having young children of my own. But having faith that they are now together again with their families gives a measure of comfort. One of these children, Winifred Elizabeth Bartlett was born to Addison and Mary on Christmas Day, 1909.
From Addison and Mary's family Bible
Addison and Mary
Ralph, Erwin and Irl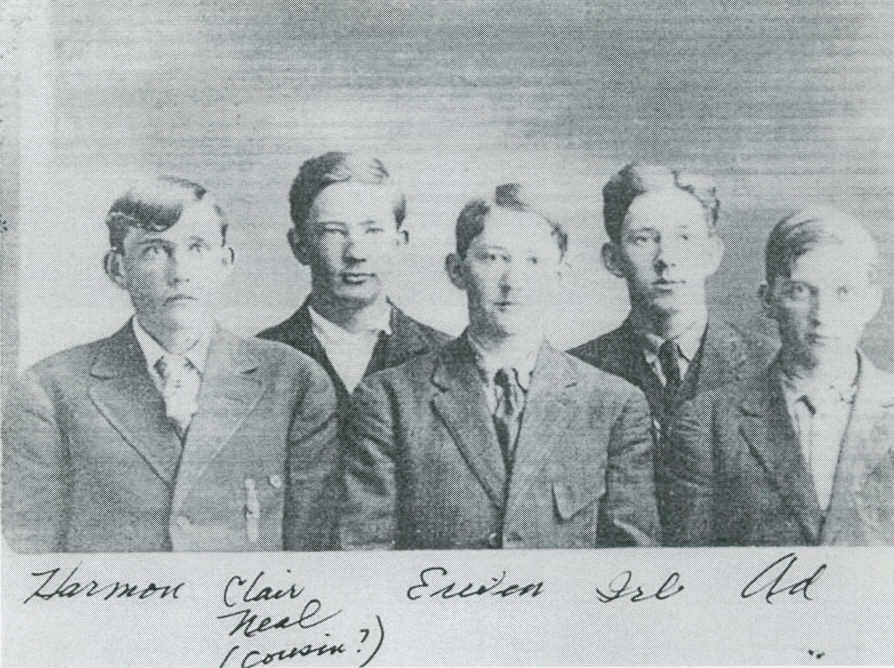 .
Addison's son's Erwin and Irl and his brother James' son's Harmon and Addison. Neal Sinclair, son of Amanda (Bartlett) Sinclair is also pictured and incorrectly identified on the above photo as Clair Neal. His mother, Amanda was a daughter of Hugh M. Bartlett.
.
.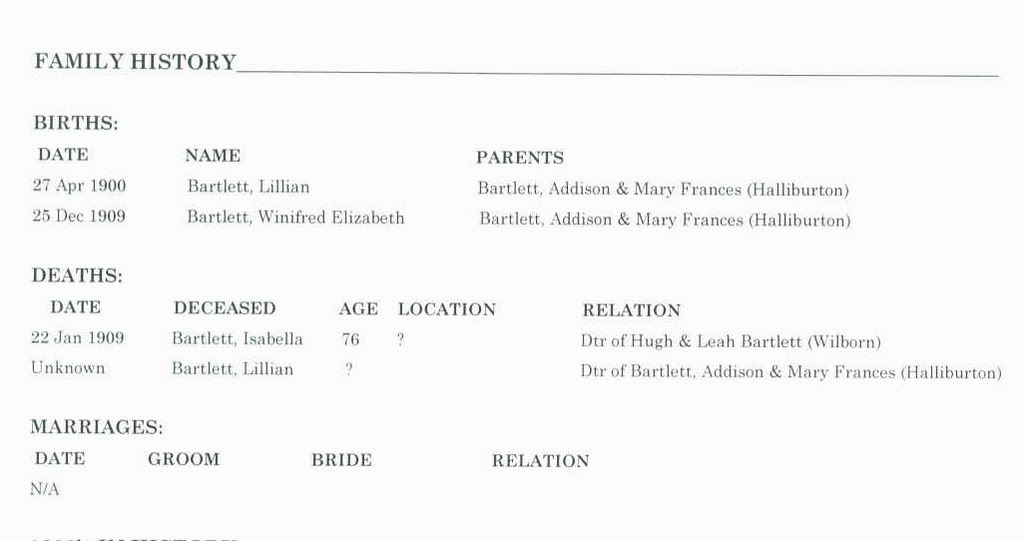 1900's

IN HISTORY
PRESIDENT: William McKinley (1897 – 1901), Theodore Roosevelt (1901 – 1909)
EVENTS: Queen Victoria dies (January 22nd, 1901), First flight by the Wright brothers (December 17th, 1903), The Russian Revolution (1905), San Francisco earthquake (April 18th, 1906), First Model T by the Ford Motor Company (September 27th, 1908), The Chicago Cubs win the World Series (October 14th, 1908). Geronimo dies (February 17th, 1909)
_________________________________
1910
- Sullivan County, Missouri Census
Bartlett, A. S. Head M W 48 M 23 Farmer
Bartlett, M. F. Wife F W 40 M 23
Bartlett, Ralph S. Son M W 22 S Teacher
Bartlett, Orpha A. Dtr F W 20 S Teacher
Bartlett, Earl H. Son M W 19 S
Bartlett, James E. Son M W 17 S
Bartlett, Isabel B. Dtr F W 15 S
Bartlett, Clio L. Dtr F W 6 S
(no name) Dtr F W __ S
Actual 1910 Sullivan County, Missouri Census Image -
(
Addison Bartlett's family entry in middle of page. Addison is listed as Bartlett, A. S.)



1910

Began an eventful decade for the family. Ralph is now 22 and sister Orpha is 20 and both would be about to depart the household. Both are listed as teachers. This would be the first time that someone in our line of Bartlett's would list an occupation other than Farmer or farm-related work. Later in the year, Ralph would marry Floy Viola Albertson and start their new household in Sullivan County, Missouri. The Albertson's are said to be of Swedish descent.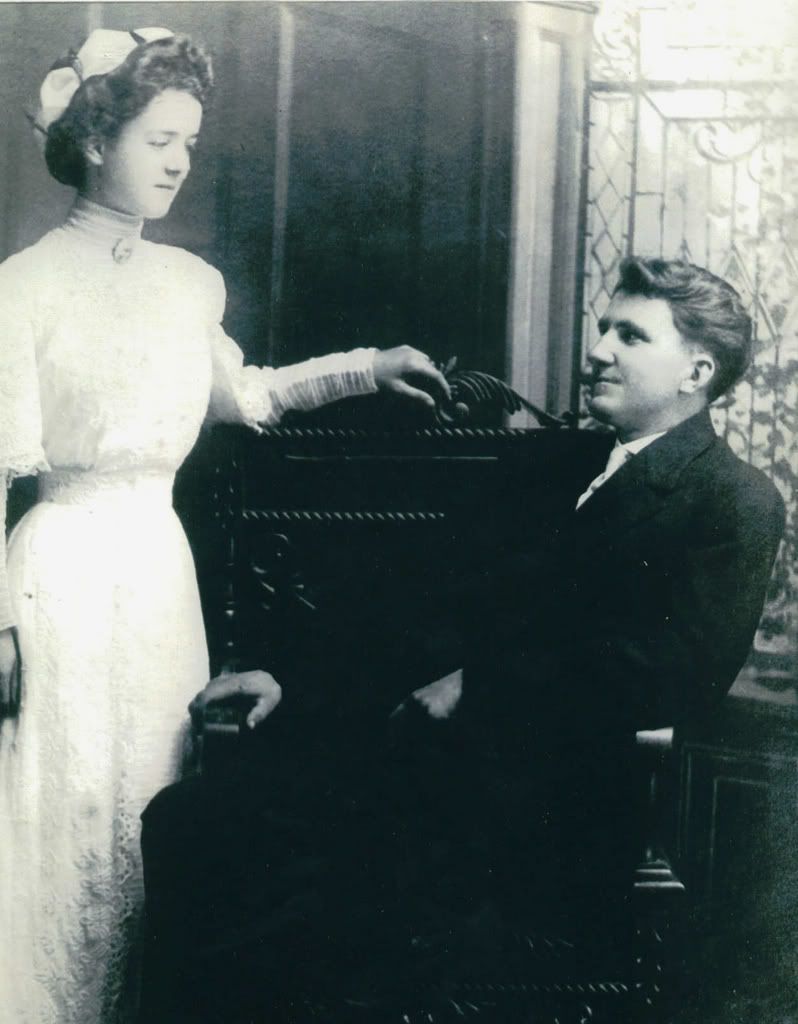 Ralph Sterling Bartlett and Floy Viola Albertson around 1910
.
.
Edward is born to Ralph and Floy around 1913. James follows around 1917. Sadly, their first son, Dwight J. Bartlett, born July 26th, 1911 died the following day, making Edward their oldest surviving child. Another child, Mark Sterling Bartlett, born October 18th, 1918 survived 2 months before passing. Both Dwight and Mark were laid to rest in the Green City Cemetery, Green City, Missouri. Addison and Mary had a daughter Lillian, who was born in 1900 and died soon after. Another daughter, Winifred Elizabeth Bartlett would pass away at just over 2 ½ years of age on August 16th, 1912. Winifred is buried in Holliday Cemetery, Pollock, Missouri. Both Green City and Holliday Cemeteries are in Sullivan County.
.
One other notable passing during this decade would be Elizabeth (Braden), widow of Solomon Bartlett and Liberty Smith. Blessed with a long life, she would pass away in Stafford, Kansas in 1915 at around age 85.
.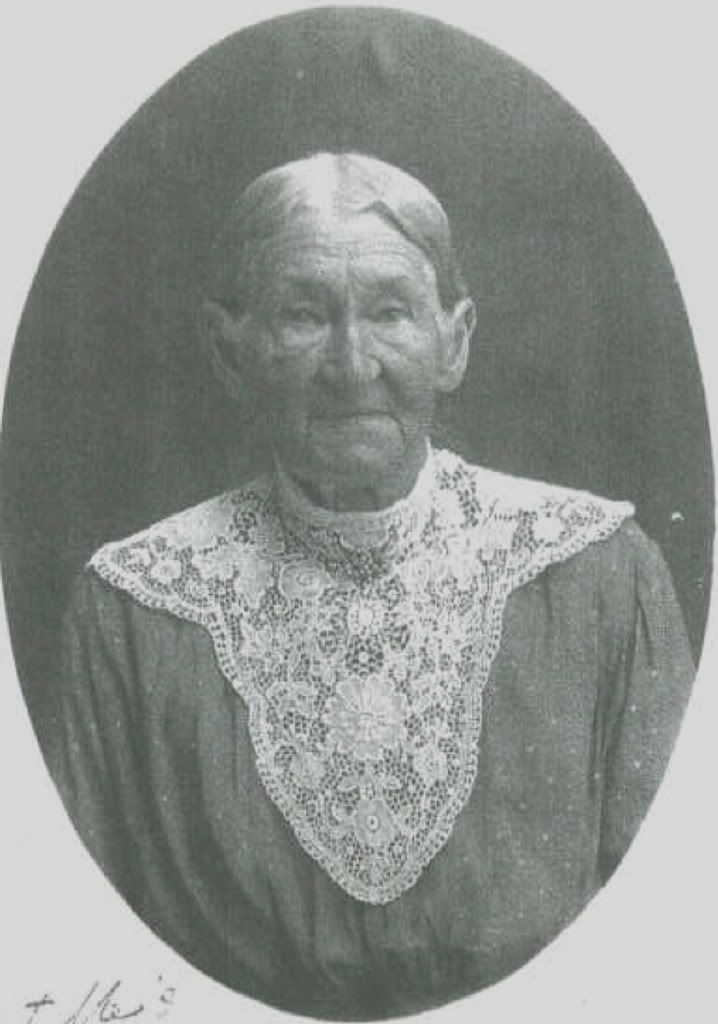 .
Elizabeth (Braden) Bartlett

. . . . . . . .

. . . . . . . . .

(1830 - 1915)
.
.
Ralph's son Edward with Mary playing with a dog in front of Addison and Mary's home.
.
World War I

was finally entered into by the United States in April of 1917. Amazingly, I did find Ralph's draft registration card filled out by him on June 5th, 1917 at age 29. It shows that he was born in Milan, Missouri on January 16th, 1888. He listed his occupation as "Farming" living in Green City, Missouri. It also mentions his family status at the time (Married with 2 children, Edward and James). He listed no previous military service. Also included in the information are physical attributes of Ralph at the time. The image quality is pretty poor, but from what I can see, it appears that he describes himself as tall, medium build with grey (?) eyes, brown hair and he indicates that he has not lost an arm, leg, hand, eye, and that he was not physically disqualified for service. Thankfully, Ralph was not called to serve. After the signing of the armistice of November 11, 1918, the activities of the Selective Service System were rapidly curtailed. On March 31, 1919, all local, district, and medical advisory boards were closed, and on May 21, 1919, the last state headquarters closed operations. The Provost Marshal General was relieved from duty on July 15, 1919, thereby finally terminating the activities of the Selective Service System of World War I.
Ralph S. Bartlett's actual draft registration card from 1917 (World War I)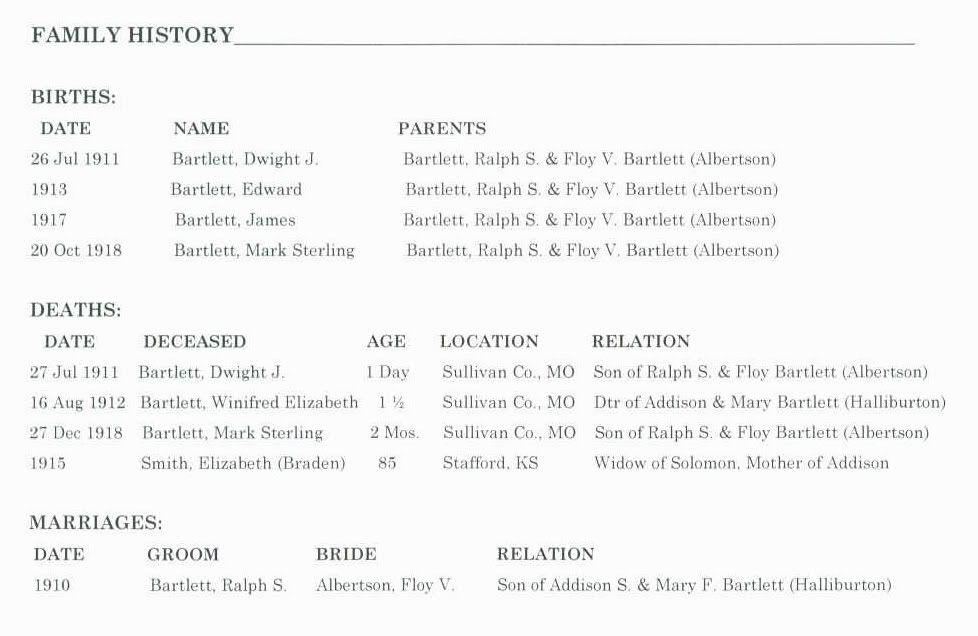 .
1910's

IN HISTORY
PRESIDENT: William H. Taft (1909 – 1913), Woodrow Wilson (1913 – 1921)
.

EVENTS: The RMS Titanic strikes an iceberg in the North Atlantic in 1912, and sinks on its maiden voyage. Panama Canal is finally open, finished by the United States after the first failed attempt by the French (1914). Pancho Villa leads several hundred Mexican raiders against Columbus, New Mexico (March 9th, 1916). United States declares war on Germany (April 6th, 1917) and enters World War I which finally ends with the signing of the Treaty of Versailles (June, 28th, 1919).
_________________________________
1920
- Sullivan County, Missouri Census
Bartlett, Addison S. Head M W 57 M Farmer
Bartlett, Mary F. Wife F W 49 M
Bartlett, Erwin Son M W 26 S Farmer
Bartlett, Clio L. Dtr F W 16 S
Actual 1920 Sullivan County, Missouri Census Image -
(Addison Bartlett's family entry in middle of page)
In

1920

, we find that Addison is now 57 and still farming. His son Erwin (listed as James on previous census) is still living at home at age 26 and farming with his father. Daughter, Clio is the youngest at home at age 16.
Bartlett, Ralph S. Head M W 32 M Farmer
Bartlett, Floy V. Wife F W 28 M
Bartlett, Edward Son M W 7 S
Bartlett, James Son M W 3 S
.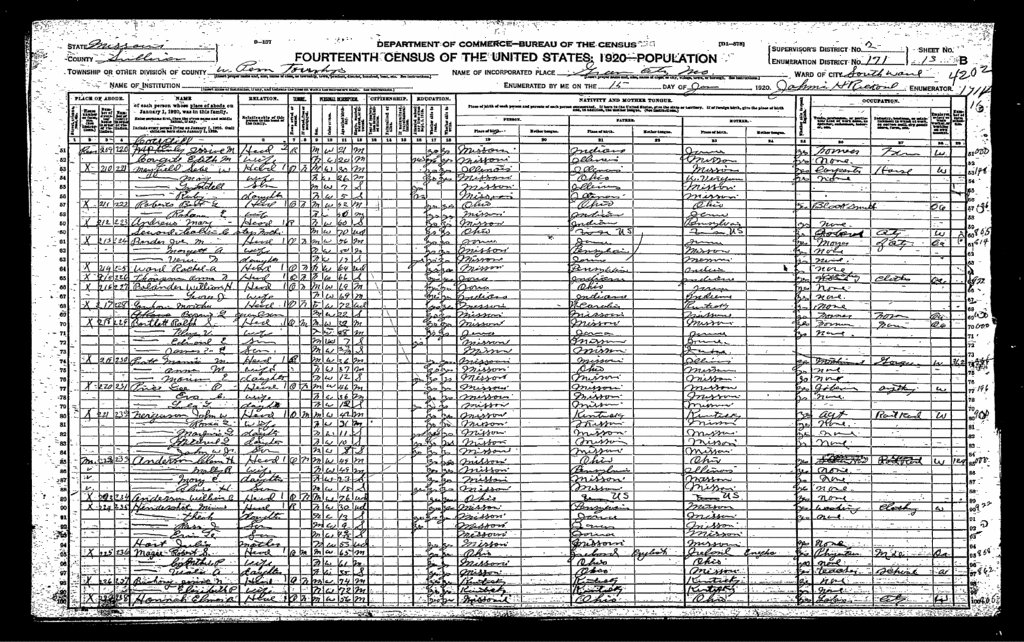 Actual 1920 Sullivan County, Missouri Census Image -
(Ralph Bartlett's family entry in middle of page)
.
Ralph is now listed as a farmer, leaving the teaching profession at some point before 1917 according to his draft card. Ralph and Floy's sons, Edward and James are now 7 and 3 respectively. During this decade, John and James, sons of Solomon and Elizabeth and brothers of Addison, will pass in 1921 and 1922, John at age 67 and James at 58. Along with the passing of Elizabeth (Braden) earlier in 1915, this ends the generation of Bartlett's that made the trek from Sullivan County, Missouri to Stafford, Kansas. There are Bartlett's that still reside in the towns of Stafford and Saint John, Kansas to this day. Some of them, no doubt, would be descendants of John and James. In 1924, Wayne Locksley Bartlett is born to Ralph & Floy in Chillicothe, Missouri in Livingston County. The next census in 1930 will show Ralph's family residing in Chillicothe in Livingston County. They moved from Green City in Sullivan County in 1923.
.
Wayne Locksley Bartlett
.
PRESIDENT: Woodrow Wilson (1913 – 1921), Warren Harding (1921 – 1923), Calvin Coolidge (1923 – 1929)
.
Ralph eventually ended up selling insurance and real estate from an office in his home. He was in business well into his late 80's and reported his largest commission ever at the age of 86.
CANBERRA and her group continued unmolested to Ulithi, arriving 27 October, 2 weeks from the day she was hit. The cruiser was towed to Manus for temporary repairs, thence departed for permanent repairs at Boston Navy Yard (16 February-17 October 1945). CANBERRA returned to the west coast late in 1945 and was placed out of commission on 6 July 1946 at Mare Island Naval Ship Yard and into the reserve (Mothball) fleet at Bremerton, WA on 7 March 1947.
.
_____________________________________