.
What follows is a multi-part series of articles that were printed in the Green City, Missouri newspaper in 1978. As you will read, Ralph was 90 years old at the time. This was also around the time of my first meeting with my great-grandfather in Chillicothe. In reading these articles, I recall that some of these stories where ones that he had shared with me. Again, I must thank our cousin Ronald Braden Bartlett for providing these articles. It is rare that someone of Ralph's age is able to recall so much family history in such detail. Ralph's mind was sharp right up until his passing. For those who weren't able to know him, much of his personality and sense of humor comes through in these detailed accounts of our family's early years in Missouri. These are copied from copies of the actual newspaper so it reads exactly as it was printed. I hope you enjoy reading these stories as much as I did.
.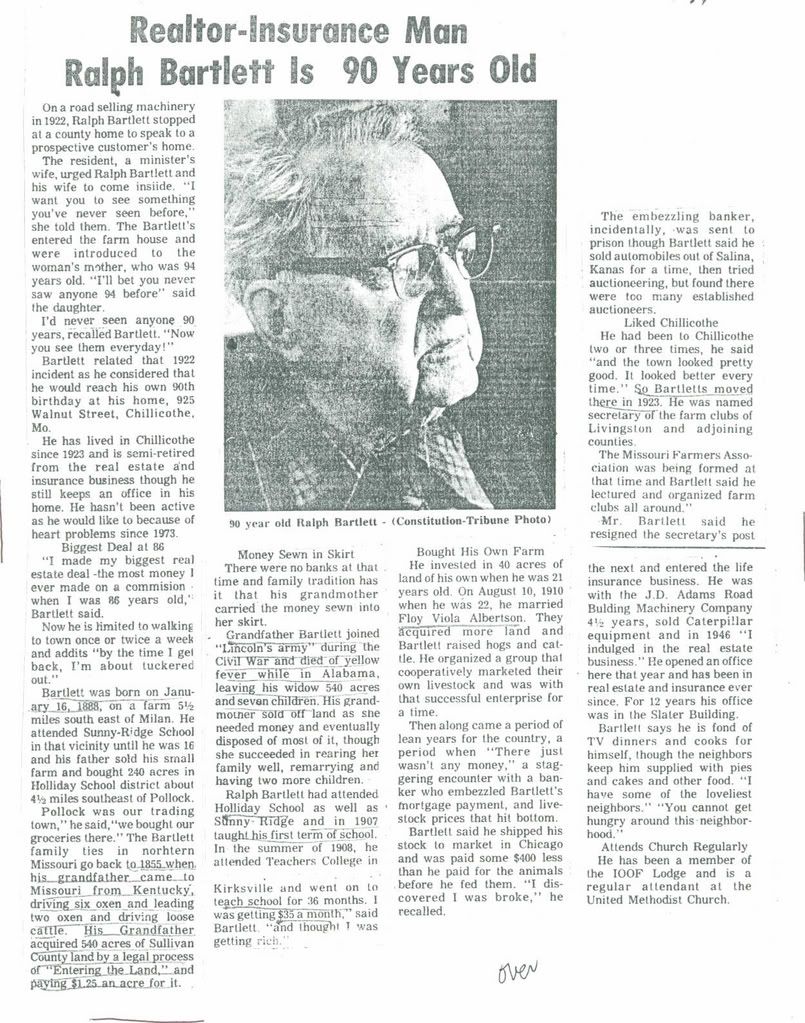 1
.
.
.
The following five pages are the conclusion of Ralph's family history. I have copies of all of the original type-written letters from Ralph to Merritt Page, which were then published in the Green City newspaper. I had not seen these pages until going through Ralph's letters recently They were not included in the published history I had previously obtained from Ronald Braden Bartlett.
.
The following few excerpts are from letters Ralph had written to his family. Even at his age, Ralph was a prolific letter writer. He typed them all himself and many of them with the use of only one good eye, as he had a cataract. These show how thoughtful and good-hearted he was. Writing kept his mind sharp and helped him to stay connected with his loved ones who lived far away. In reading these, I'm reminded of what originally drew me to him. He is greatly missed.